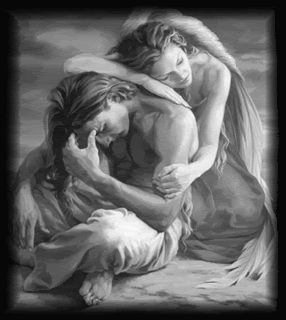 Flying but with wings of steel,
Just want to tell you how I feel.
The sun is hot and your breath is cool
As we plunge into the deep blue pool.

It mends my wings and takes my breath,
You saved my soul from certain death.
Kisses from you reign down on me
As we dance our tango beneath the sea.

A beautiful ballet just you and I
Fallen from the sun kissed sky.
Together we float in an ocean of dreams
Where the water is warm from the silver moon beams.

This night we swim for shore together,
A night like this could last forever ~
Moonlit sand in an hour glass
Shows time running out, but we want it to last.

Somewhere in the distance I hear a chime
Warning of us of the end of our time,
But love is strong and we'll see tomorrow
and your smile will be an end to my personal sorrow.
I love you ~ ~ ~ M