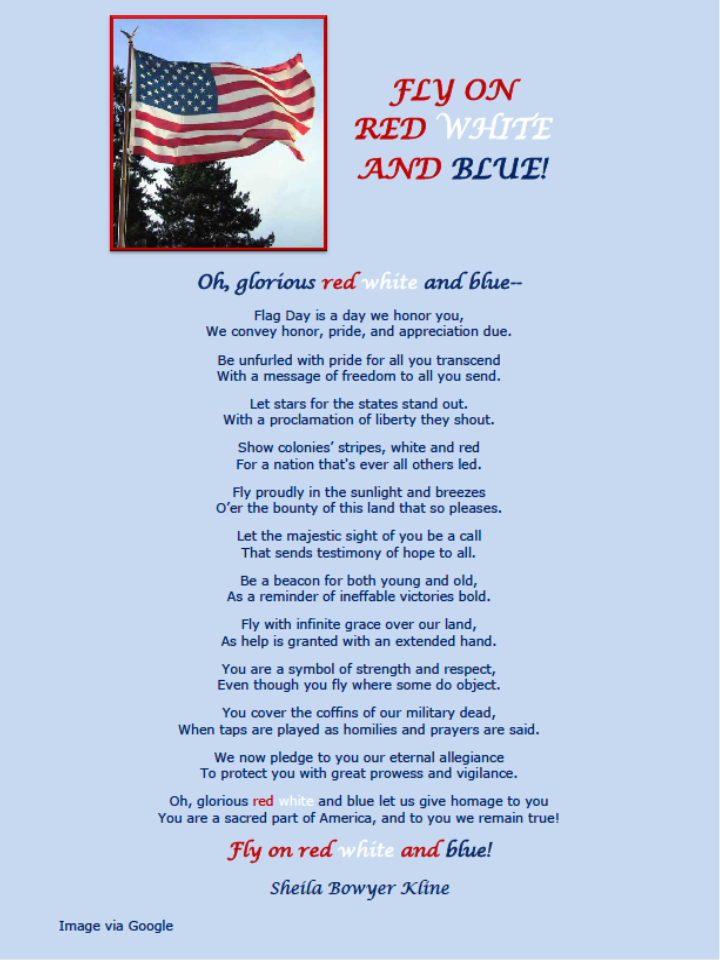 FLY ON RED WHITE AND BLUE!
Oh, glorious red white and blue--
Flag Day is a day we honor you,
We convey honor, pride, and appreciation due.
Be unfurled with pride for all you transcend
With a message of freedom to all you send.
Let stars for the states stand out.
With a proclamation of liberty they shout.
Show colonies' stripes, white and red
For a nation that's ever all others led.
Fly proudly in the sunlight and breezes
O'er the bounty of this land that so pleases.
Let the majestic sight of you be a call
That sends testimony of hope to all.
Be a beacon for both young and old,
As a reminder of ineffable victories bold.
Fly with infinite grace over our land,
As help is granted with an extended hand.
You are a symbol of strength and respect,
Even though you fly where some do object.
You cover the coffins of our military dead,
When taps are played as homilies and prayers are said.
We now pledge to you our eternal allegiance
To protect you with great prowess and vigilance.
Oh, glorious red white and blue let us give homage to you
You are a sacred part of America, and to you we remain true!
Fly on red white and blue!
Sheila Bowyer Kline
Posted on NetHugs Holiday and Special Events Forum
Flag Day, June 14, 2014